Twitter for Business: Twitter for Friends
A friend of mine's book that will save you time and headaches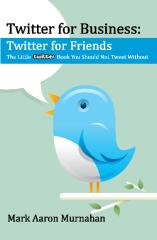 Twitter for Business: Twitter for Friends is WELL worth the $12.95 it sells for. This quick read will help anyone get up and running on twitter quickly while avoiding all of the headaches I went through in getting started on the platform. (I wish I would have had this before I started.)
Not only does it walk you though everything step by step, but the author (Mark Murnahan) also reviews a number of helpful twitter tools. He also outlines how the twitter platform can be useful for business owners.
This book is great for anyone starting out on twitter (or who needs to) as well as any C-level executive (CEO, CIO, CFO, CTO).
You can order Twitter For Busines: Twitter for Friends by Murnahan at Amazon
Learn more at Twitter for Business: Twitter for Friends website.